Alaska is America's largest state based on land area but also the least populated among all the 51 states, mostly due to its icy cold weather. It is home to America's tallest mountain and has the huge chunk of the world's glaciers. But aside from these wondrous feat, there is more to Alaska, thanks to its thousands and thousands of wildlife, fjords, rivers, lakes, national parks, mountains and more. There are just so much here to see and experience so include these top 6 things to do in your Alaskan bucketlist.
KENAI FJORDS NATIONAL PARK
Is one of the 24 national parks in Alaska and here you can enjoy a whole day tour to see 2 old glaciers that open up to sea. This is also your chance to encounter humpback whales, orcas, sea lions, bears, mountain goats and other animals. Whale encounters are the best of all since you can sometimes hear their incredible songs and cries. Prepare for a rough weather at sea though because it's not all sunny and calm in this part of the planet.
GLACIERS
Half of the planet's glaciers are found here and it's an astounding 100,000 of them. Get up close and personal to the world's ancient body of ice, by walking over them or even go kayaking on one of the waters around it. But ice trekking should only be done with a guide since it can be quite dangerous to go out there on your own.
HOUSE OF SANTA CLAUS
If you want to experience Christmas anytime on the calendar besides December 25th, just go over to the house of the most beloved old man in red clothing, Santa Claus. Kids from all over the world send snail mails and postcards and the couple who owns the place spent more than 60 years of replying to little boys and girls and sign it as Santa Claus.
MENDENHALL ICE CAVES
Inside a partially hollow glacier, is a beautiful cave of blue shimmering walls, but before going inside you have to kayak your way to the edge of the big chunk of ice. Unfortunately, due to climate change, this incredible blue winter wonderland of ice is slowly disappearing and after a few more years will be totally extinct.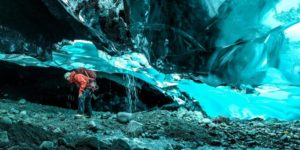 THE GOOSE CREEK TOWER
This whimsical tower of a house is something straight from a fictional book that is why most people would teasingly call it Dr. Seuss House. The owner, Mr. Philip Weidner, initially wanted a 2-storey cabin only but his imagination got the better of him so he added another floor and another one and another one and so on. Watching the Northern Lights on top of the tower can be one of the best outcome of building this quirky house.
THE GLACIER GARDENS RAINFOREST ADVENTURE
Who would have thought that you can see a healthy thriving garden on the upper north of the world, and what's more fascinating is that the lovely colorful flowers are hanging on upside down trees. They say the most beautiful things can come from the most tragic events, and that was the same with this piece of Alaskan land. After a landslide, the owner of the land found beauty in the disastrous situation. The upside down trees with its roots looking up the heavens served as cradles for the flower beds that hang so beautifully. It's a beautiful scenery and visitors are welcome from May through September.